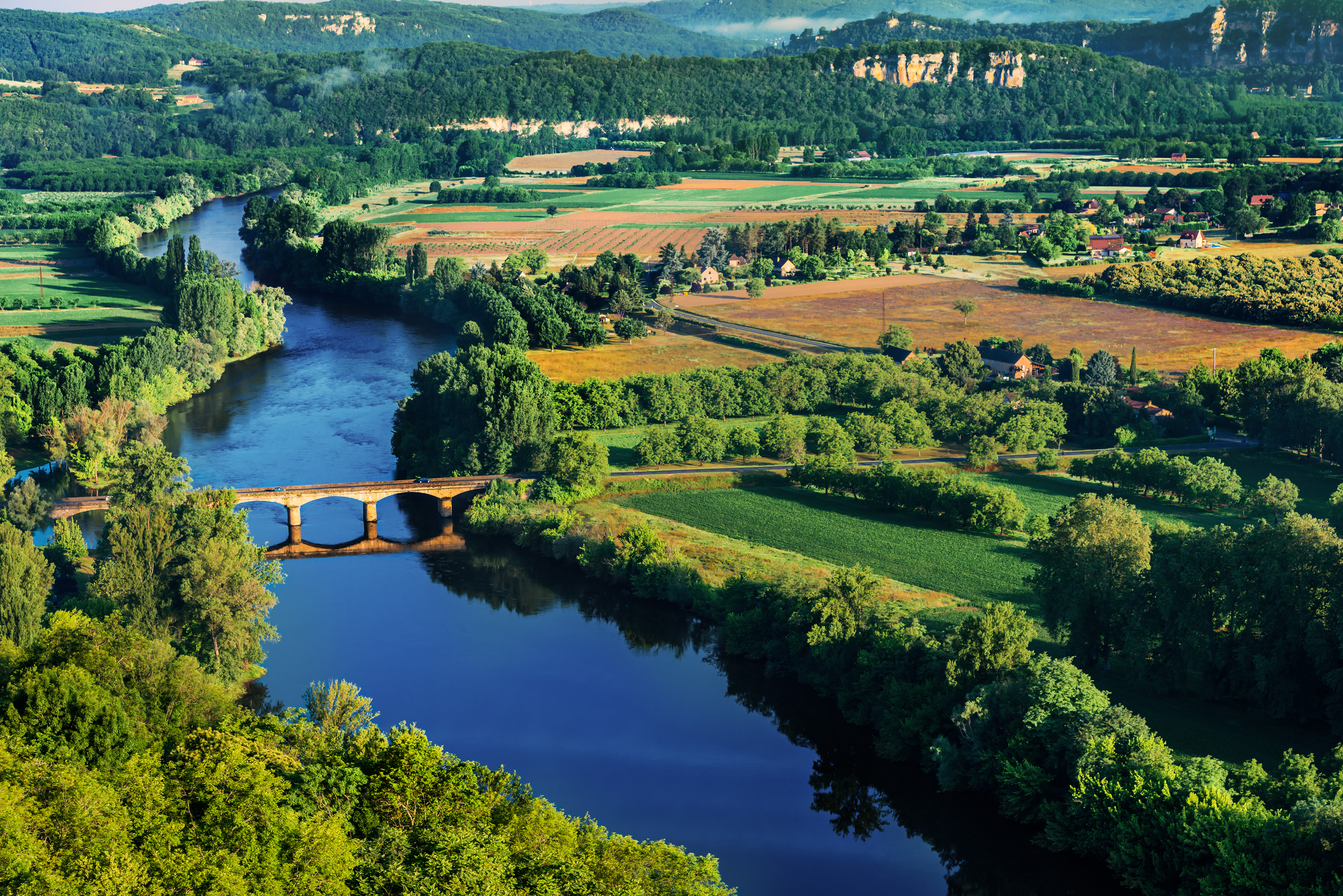 Vale do Dordonha, os vilarejos mais bonitos da França!
Na França existe uma classificação para as sua cidades mais bonitas, "Les plus beaux villages de France" (Os vilarejos mais bonitos da França), na lista oficial constam 153 vilarejos, sendo que, 10 estão localizados no Vale do Dordonha. Entre eles Beynac-et-Cazenac, Domme, La Roque-Gageac, Saint-Jean-de-Côle, Saint-Amand-de-Coly, Belvès, Monpazier, Limeuil, Castelnaud-la-Chapelle, Saint-Léon-sur-Vézère. A cidade mais importante do Périgord Noir é Sarlat-la-Canéda. 
O Rio Dordonha é o que dá o nome a região, acompanha placidamente as charmosas aldeias e oferece-nos um idílico passeio pelas suas margens, ou com uma travessia de Gabarre, os barcos típicos da região, que possuem um fundo achatado devido à pouca profundidade do rio.
Na região de Périgord, existem outros tesouros escondidos, são vilarejos medievais também classificados como "Les plus beaux villages de France", que ficam próximos ao Vale do Dordonha. Alguns do Departamento do Lot, localizado na região Midi-Pyrénées, cercado pelo rio Lot, sua capital é a cidade de Cahors. 
A região de Périgord é também conhecida como sendo a região dos 1001 castelos. Dizem que é impossível contá-los. Eles foram construídos entre a Idade Média e o Renascimento.
Uma paisagem que mescla vinhedos, campos de girassóis, penhascos que escondem cavernas trogloditas e sítios pré-históricos como o da gruta de Lascaux. Além disso, castelos, os famosos jardins de Marqueyssac e d'Erignac e cidades fortificadas.
A região está dividida em quatro áreas chamadas: Périgord Noir (Preto), com florestas densas de carvalho e cujo centro fica na cidade de Sarlat-la-Canéda; o Périgord Blanc (Branco), que é o coração da Dordonha, onde fica a capital Périgueux; o Périgord Vert (verde), vales cobertos de florestas e rios, onde se destaca a cidade de Brentôme, também chamada de Veneza do Perigord e do Périgord Pourpre (roxo), que é a região produtora de vinhos e sua capital é  Bergerac.
Périgord é conhecida pela sua gastronomia, especialmente os seus patos e gansos, produtos como o confit de canard e foie gras. É  o centro de trufas na França. Vinhos périgourdine incluem Bergerac (vermelho e branco) e Monbazillac.
Visto
Para a maioria dos países da Europa, brasileiros não precisam de visto. No entanto, com o intuito de aumentar a segurança do território, os 26 países signatários do Tratado de Schengen passarão a exigir uma autorização eletrônica. O ETIAS (Sistema Europeu de Informações e Autorização de Viagem) é definido como um visto não tradicional e a partir de 2021 todos os cidadãos provenientes de países já isentos de visto para viajar pela Europa – Brasil e outras 14 nações latino-americanas, precisarão providenciá-lo antes de sair de casa.
 iVisa fornece a solução mais simples para o processamento do seu visto de viagem. Permite que os viajantes processem vistos de um computador, smartphone ou tablet. 
Por favor, se não for inconveniente, tire o seu visto pelo meu link de afiliado iVisa. Você não paga nada a mais por isso, e eu recebo uma pequena comissão que me ajudará a manter o meu site no ar com informações de qualidade. Agradeço muito o seu apoio!
Como chegar
Avião
Aeroporto de Bergerac Dordogne,  ☎: +33 5 53 22 25 25 –
Fax: ☎: +33 5 53 24 35 43 Ou  no aeroporto de Bordeaux
Carro
A20: Paris-Limoges; RN21: Limoges-Perigueux (500 km – 311 milhas)
A10: Paris-Poitiers; RN 10 Poitiers-Angoulême; D939: Angoulême-Périgueux (500 km – 311 milhas)
A89: Bordeaux-Périgueux (120 km – 75 milhas)
D936: Bordeaux-Périgueux (100 km – 62 milhas)
Trem
Paris- Angoulême TGV (2h30), em seguida, alugar carro para Périgueux (1:15)
Bordeaux-Périgueux (1:15)
Toulouse-Périgueux (3 h)
Para quem não conhece Bordeaux, sugiro ficar uns 3 dias e conhecer esta linda cidade que é um Patrimônio Mundial da UNESCO. 
Vale a pena alugar um carro e, depois, seguir  pela estradinha às margens do Rio Dordogne em direção a Sarlat-La-Canéda ou cidade próxima, onde seria a base para visitar as aldeias do roteiro sugerido. Incluo também, alguns vilarejos do Departamento do Lot, são lindos e próximos do Vale do Dordonha. 
Bordeaux
É a capital e a maior cidade do departamento da Gironda, no sudoeste de França. Cidade da arte e da história, possui um dos mais harmoniosos conjuntos arquitetônicos do Século XVIII, que foi completamente revitalizada nos últimos 10 anos. Por conta dessa renovação, em 2007 a UNESCO incluiu a cidade em sua lista de Patrimônios Mundial da Humanidade.
Algumas das ruas do Centro foram convertidas em calçadões para pedestres. Passear às margens do rio Garonne, que foram restauradas e viraram um grande parque, parar na Place de la Bourse  e apreciar a diversão das crianças com as águas. Velhos armazéns se transformaram em bares, discotecas e lojas. Na região de Chartrons, acontece a feira dominical Marché dês Quais, tem restaurantes, lojas, e muitos bares. Para quem não dispensa as compras, pertinho da Place de la Bourse fica a Rue Sainte Catherine, rua comercial da França, com lojas de grife.
Se quiser comprar vinhos na cidade de Bordeaux, vale conferir a loja L'Intendant (2, Allée de Tourny, Bordeaux) e se apreciar "fois gras", passe na Maison Dubernet, especializada no assunto.
Hotéis
Yndo Hôtel,108, rue Abbé de l'Epée, Cebtro de Bordeaux, 33000 Bordeaux, 
Hotel de luxo, situado numa mansão privativa do século XIX, no coração do Centro Histórico. Dispõe de um jardim e um terraço, onde você pode desfrutar de uma estadia tranquila. O hotel possui apenas 12 quartos com varandas, decorados individualmente, com móveis de design.
La Grande Maison de Bernard Magrez, 
Localizado a 20 min à pé do Centro Histórico, em uma mansão privativa do século XIX. O  restaurante do hotel possui 2 estrelas Michelin, em um ambiente elegante e casual, e serve pratos elaborados pelo famoso chef Joël Robuchon.  
Por favor, se não for inconveniente, faça as reservas de suas acomodações pelo nosso link de afiliado do Booking.com, é só clicar no nome do hotel da sugestão. Você não paga nada a mais por isso, e eu recebo uma pequena comissão que me ajudará a manter o meu site no ar com informações de qualidade. Agradeço muito o seu apoio!
Continuar a viagem para o Vale do Dordonha, passando por Saint-Émilion.
Saint-Émilion, 47,3 Km de Bordeaux, é um lindo vilarejo medieval bem pequeno, construído em calcário amarelo, em mais ou menos 2 horas é possível conhecer a cidade toda. Mas vale a pena se hospedar em um destes maravilhosos hotéis e curtir um jantar em um restaurante gastronômico.  
As construções são do século XI e XII e suas vielas entre os prédios dão um toque de charme. Em 1999, e pela primeira vez na história, uma paisagem vitícola foi classificada como Patrimônio Mundial pela UNESCO, que considerou Saint-Emilion como "um excelente exemplo de um vinhedo  que sobreviveu intacto " e continua sua atividade até hoje.

Para os amantes de vinho, outro programa obrigatório é conhecer os vinhedos, afinal a cidade é uma das principais produtoras de vinho tinto da região de Bourdeaux. 
Existem diversas vinícolas abertas à visitação. O viajante deverá escolher qual sub-região lhe interessa e fazer a reserva diretamente com o Château.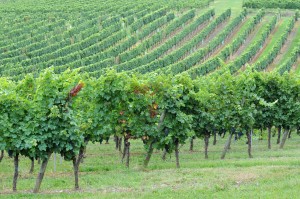 Viticulture
No site do escritório de turismo da cidade de Saint-Emilion (www.saint-emilion-tourisme.com), apresenta a lista completa dos Châteaux dessa sub-região que aceitam visitas. Alguns bem conhecidos e que integram a lista dos "Premiers Grands Crus Classes" são: Château Ângelus, Château Canon, Château Figeac e Château Pavie.
Os Châteaux Ausone e Cheval Blanc, que produzem os vinhos mais famosos e mais caros de Saint Emilion, não aceitam visitas. 
Em duas horas de visita no Chatêau Haut-Sarpe, no centro de Saint-Émilion, é possível aprender um pouco sobre como se faz um vinho, dar vida à sua própria garrafa e ainda levar para casa o seu tinto.
Para o almoço, sugiro o L'Envers du Décor, na 11 Rue Du Cloche, ☎: +35 57 74 48 31, o primeiro Wine Bar em Saint-Emilion, inaugurado em fevereiro de 1987 por François de Ligneris.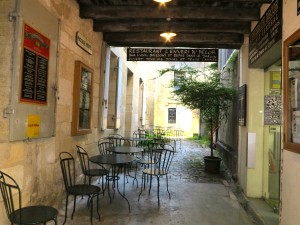 Com o seu restaurante, este estabelecimento tornou-se, ao longo dos anos o ponto de encontro para amadores e profissionais do vinho da região. Com sua cozinha regional, o estabelecimento se tornou um dos lugares mais procurados do centro. Foi premiado com o "Grand Prix do Wine Press", a melhor carta de vinhos na França de bares de vinho.
Hotéis
Le Pavillon Villemaurine, Villemaurine, 33330 Saint-Émilion, França
Fantástico hotel/B&B, localizado à 5 min a pé do centro de Saint-Émilion, em um bonito chateau com vista para os vinhedos. A propriedade oferece 5 quartos requintados e um jardim com terraço para relaxar.
Você pode degustar vinhos dos vinhedos dos proprietários. Nikki e Julian são anfitriões incríveis e muito bem informados sobre a área, recomendam os melhores restaurantes e organizam visitas a produtores locais de vinho e degustações.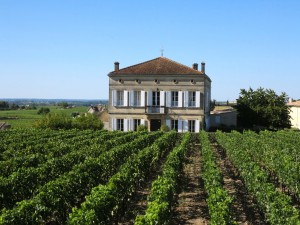 B&B Le Pavillon Villemaurine
Hostellerie de Plaisance, Place du Clocher, 33330 Saint-Émilion
Excelente Hotel Relais & Chateaux, localizado no centro histórico de St. Emilion, a 45 minutos de Bordeaux, o Hostellerie de Plaisance oferece vista panorâmica de Saint-Emilion e seus vinhedos.
Rodeado por um jardim e um terraço, este antigo mosteiro de pedra possui  17 quartos espaçosos com decoração clássica.  O ambiente é luxuoso, mas discreto. O atendimento é perfeito. 
O Hostellerie de Plaisance dispõe de um restaurante gastronômico com uma ampla carta de vinhos.  Faz jus as 2 estrelas Michelin que possui, a comida é ótima! Enfim altamente recomendável!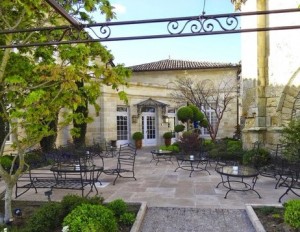 Hostellerie de Plaisance
Vale do Dordonha
Procure se hospedar em uma cidade próxima de Sarlat-La-Canéda, é uma região central e vizinha das cidades mais bonitas da região, podendo fazer um bate e volta de carro.
Na dúvida da cidade, escolha pelo hotel, o que mais combine com o seu perfil. Como o nosso site trata-se de viagem com charme, eis as minhas sugestões de hotéis e das cidades mais charmosas do Vale do Dordonha e do Departamento Lot.
A rica culinária regional do Vale do Dordonha tem uma reputação a defender. Mesmo na França, esta área é conhecida como um paraíso para os amantes de comida. As "Bonnes Tables du Lot" rótulo que foi criado para restaurantes locais que servem a tradicional "cuisine du terroir" e oferecem uma experiência autêntica.
 
Os talentosos Chefs  trabalham com os melhores produtos locais e aplicam todo o seu "savoir-faire" para servirem as  deliciosas receitas regionais em restaurantes tradicionais ou gastronômicos, especialmente selecionados para fazer parte da "Bonnes Tables du Lot".
Hotéis
Les Chambres du Manoir, 13 rue de la république, 24200 Sarlat-la-Canéda, França
B&B muito charmoso, localizado no coração da cidade medieval de Sarlat-la-Canéda, em uma mansão do século XV. Possui apenas 2 quartos. Há disponibilidade de estacionamento privativo por um custo extra (10 Euros p/ dia), a 150 metros da propriedade. O proprietário, Sr Hervé é muito simpático e faz de tudo para agradar os hóspedes. Tem um excelente restaurante Le Petit Manoir. Sugiro levar malas pequenas, possui uma escada para acesso aos quartos. É um ótimo custo-benefício.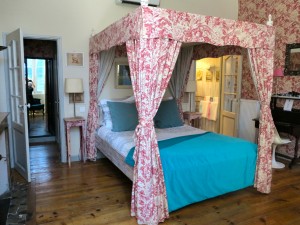 B&B Les Chambres du Manoir
Les Hauts de Gageac Maison d'Hôtes de Charme, Lieu-dit Gageac, 24250 La Roque-Gageac,  
Hotel muito lindo, super charmoso, localizado a 19 km de Sarlat-la-Canéda. Em um local tranquilo. Bem decorado, os quartos possuem terraços com vistas para o vale do Dordonha ou para a piscina. Os anfitriões, Christine e Regis, explicam sobre a área, dão dicas das visitas aos castelos e grutas, como também de bons restaurantes.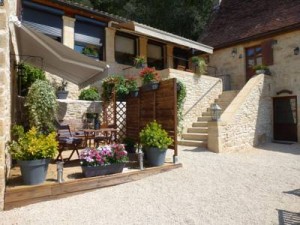 Les Hauts de Gageac Maison d'Hôtes de Charme
Relais de Moussidière, Route de Moussidière, 24200, 
Localizado, à 3Km do centro de Sarlat-la-Canéda, é um hotel boutique de 4 estrelas, em um lugar muito tranquilo, no meio de uma floresta e ao lado de um pequeno lago. O hotel tem quartos confortáveis, com varandas voltadas para o jardim, é decorado com mobiliário antigo.
Por favor, se não for inconveniente, faça as reservas de suas acomodações pelo nosso link de afiliado do Booking.com, é só clicar no nome do hotel da sugestão. Você não paga nada a mais por isso, e eu recebo uma pequena comissão que me ajudará a manter o meu site no ar com informações de qualidade. Agradeço muito o seu apoio!
1º Dia 
Sarlat-la-Canéda
13,6Km de La Roque-Gageac e 22Km de Les Eyzies-de-Tayac (cidades dos hotéis sugeridos no roteiro)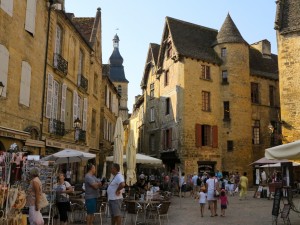 Sarlat-La-Caneda
Localizada em Périgord Noir, 168km de Saint-Émilion, é uma linda cidade medieval  que se desenvolveu em torno de uma abadia beneditina, fundada no final do Séc VIII.  A  cidade que estava próspera, nos Séculos XIII e XIV, foi destruída com a Guerra dos Cem Anos, depois novamente reconstruída pela população, que por ter apoiado a coroa francesa durante a guerra,  recebeu privilégios e prosperou novamente.
Esta charmosa vila,  foi a primeira cidade a ser tombada pelo Patrimônio Mundial da Unesco, em 1962.
Os trabalhos realizados a partir de 1964 em diante têm revelado um verdadeiro tesouro da arte medieval e renascentista para o público. Turistas e diretores de cinema, em seguida, assumiram o comando de trazer este canto da Terra, à atenção de todo o mundo. A versão de 1978 do filme de "Les Miserable" foi filmado extensivamente em Sarlat, mas também em Domme e nas proximidades, com o impressionante Castelo de Beynac que substitui a famosa cadeia Toulon.
A via principal do Centro é a Rue de la République, rua de pedestre que percorre toda a extensão da cidade antiga, com labirintos. A Rue Montaigne, é uma das mais conhecidas, onde se encontra o maior número de fachadas renascentistas da França. 
Sarlat é um famoso centro gastronômico, com várias lojas vendendo todo tipo de produtos locais, mas os principais são o foie gras em diferentes composições e as trufas. Muitas lojas oferecem  sessões de degustação. Na  Place de la Liberté, no centro da cidade, acontece aos sábados um mercado considerado um dos melhores da região que oferece os produtos típicos locais como foie gras, nozes, azeites, trufas, queijos e cogumelos. 
Na terceira semana de janeiro, celebra a Festa da Trufa e o terceiro domingo de fevereiro é o festival do ganso – Sarlat Fest'oie.
Sarlat ganha vida no verão com seu Festival de Cinema, bem como espectáculos de rua non-stop no bairro antigo. Sarlat é um paraíso de artistas, com muitas pequenas galerias, incluindo o famoso "Herdin", estudante de Salvador Dali. Fora de temporada, há também  eventos culturais, concertos, teatro, filmes (muitas vezes na língua original), uma visita no Natal é como entrar em um conto de fadas.
Mercado ao ar livre (todo o ano)
Sábado: Na cidade velha – todos os produtos de 08: 30 às 18:00
Sábado de manhã: Place de la Liberté (Praça da Câmara Municipal), mercado de alimentos 08:30 às 13: 00
Quarta-feira: Place de la Liberté (Praça da Câmara Municipal), pequeno mercado de alimentos 08:30 às 13:00
Mercado coberto (todo o ano)
Old Church Sainte Marie, Place de la Liberté
Na baixa temporada: diariamente (exceto quinta-feira) 8:30 às 13:00
Em Julho e Agosto: todas as manhãs 08:30 às 14:00
Sexta-feira: durante todo o dia 9:30 às 20:00
Mercado biológico noturno
A partir de 17 junho – 16 setembro das 18:00 às 22:00, na Place du 14 juillet (em frente ao Correios)
Mercado trufas e "foie gras"
Em Dezembro, Janeiro e Fevereiro: Place Boissarie (perto do mercado coberto, Igreja Velha Sainte Marie)
Sábado 09:00 às 13:00
Restaurantes
Le Grand Bleu, 43 Avenue de la Gare
Localizado perto da estação de trem a uma curta distância a pé da cidade velha, tem  estacionamento da estação. Maxime Lebrun, proprietário e chef, oferece cozinha tradicional focada em produtos sazonais, na sua maioria provenientes de produtores do Périgord. Classificado com uma estrela Michelin.
Les jardins d'Harmonie, Place Andre Malraux, 24200,  ☎: +3305 53 31 06 69
Restaurante pequeno e muito agradável. O chef Marc trabalhou no Nobu em Londres, onde ele se aperfeiçoou. Cozinha francesa da região misturada com toques orientais. É recomendável fazer uma reserva, sugiro uma mesa ao ar livre, se o tempo estiver bom.
Le Presidial, 6, rue de lavandaria ☎: +3305 53 28 92 47
Restaurante charmoso, em uma antiga mansão com um belo jardim. Localizado em um lugar tranquilo, fora do Centro Histórico. Cozinha francesa tradicional. Sugiro reservar uma mesa no jardim, é mais agradável.
Le Quatre Saisons, 2 Cote de Toulouse  ☎: +3305 53 29 48 59
Restaurante charmoso, com um agradável jardim. O chef é criativo, mistura produtos locais e receitas tradicionais com culinária molecular. Sugiro escolher uma mesa no jardim, só trabalha com reservas.
Maison Dupéliac, Chemin du haut vialard, 24200 Sarlat-la-Canéda,    ☎: +3305 53 30 82 60 
Localizado na porta da cidade, oferece um ambiente acolhedor e elegante, com uma atmosfera de bistrô chique. Possui uma arquitetura moderna com espaços luminosos e um belo jardim florido. Oferecem pratos com produtos locais e de qualidade.
2º Dia
La Roque Gageac, 5Km de Beynac, 12Km de Sarlat e 7,4Km de Domme
É uma linda cidade às margens do Rio Dordogne, construída sobre uma falésia de pedra. De longe, os prédios parecem estar camuflados no rochedo. No entanto, olhando de perto, cada casa é decorada com flores e árvores como bananeiras, palmeiras, oliveiras, bambus e laranjeiras. Ao lado da igreja fica um jardim de plantas tropicais.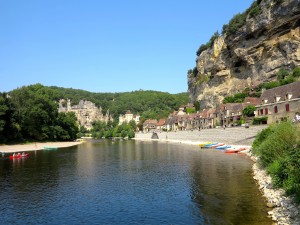 La Roque Gageac
Beynac-et-Cazenac, 12 Km de Sarlat-La-Canéda e 5Km de La Roque Gageac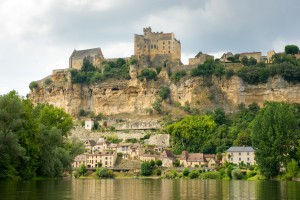 Beynac-et-Cazenac
Uma vila medieval localizada em uma colina, às margens do Rio Dordonha, que dá acesso ao castelo, também medieval. É de perder o fôlego, nos dois sentidos, prepare para subir as ruela íngremes que conduzem ao castelo de Beynac, no topo de um rochedo. O esforço vale a pena pela vista  do Vale do Dordonha  e, ao fundo, os castelos.
O Castelo de Beynac foi construído em um penhasco para a defesa do Vale, a partir do Século XII pelos barões de Beynac (um dos quatro barões de Périgord). A Salle des États (o hall dos Estados) tem uma lareira esculpida na Renascença, com um pequeno oratório totalmente coberto com afrescos do século 15, incluiu uma Pietà, um São Cristóvão, e uma última ceia em que Saint Martial (primeiro bispo de Limoges) é o maître.
Na Guerra dos Cem Anos o Rio Dordonha foi praticamente uma fronteira entre ingleses e franceses e aqui aconteceram inúmeras batalhas, os castelos funcionavam como fortalezas e enquanto o de Beynac estava em poder dos franceses o de Castelnaud estava em poder dos ingleses. O Vale do Dordonha foi o teatro de numerosas lutas de influência, rivalidades e, ocasionalmente, batalhas entre os inglêses e franceses. 
          Castelo Beynac-et-Cazenac
O castelo foi comprado em 1962 por Lucien Grosso que o restaura cuidadosamente. Os visitantes do castelo pode ver suntuosas tapeçarias mostrando a caça e outras cenas da vida dos senhores do período. O Château de Beynac foi listado como um monumento histórico pelo Ministério da Cultura da França desde 1944.
Foi cenário para vários filmes, incluindo Les Visiteurs por Jean-Marie Poiré, em 1993, La Fille de d'Artagnan por Bertrand Tavernier, em 1994, Ever After por Andy Tennant, em 1998, e Jeanne d'Arc por Luc Besson, em 1999. A aldeia de Beynac abaixo do castelo, também serviu como um local para o filme Chocolat por Lasse Hallström, em 2000.
É possivel fazer um passeio em uma réplica de "gabare"– barco do século 18. O percurso de uma hora custa 8 Euros. Os barcos navegam de 1º de Abril ao começo de Novembro.
Belvés,  21,9 Km de  Beynac-et-Cazenac e 30,7Km de Sarlat-La-Canéda
É listada como "uma das mais belas aldeias da França". Além de uma linda cidade medieval é  animada. No centro  você pode visitar algumas habitações trogloditas que datam de todo o século XIII. A entrada para a habitação troglodita é pelo portão fortificado no canto da praça. No século XI, tinha uma ponte levadiça e era a única entrada para o Castrum. A cidade velha, chamada Le Castrum,  do  século XI/XII e foi originalmente cercada por muralhas, algumas  ainda são visíveis. A vila possui um campanário medieval, um castelo do século XIV, e a Prefeitura. Bélves é famosa como sendo a "Cidade das Sete Torres de Sino". Passear pelas Rue du Petit Sol e da rue de l'oiseau qui chante (rua do pássaro que canta!).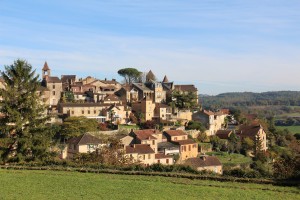 Belvés
O outro edifício principal da Idade Média é La Tour du Guet, a torre do relógio que está fora da cidade, na esquina da rue du Bout du Monde (End of the Street Mundial) e da rua Pelevade. A torre tem vista para o vale e assim poderia avisar quando o inimigo se aproximava.
O Hotel Bontemps é um edifício do século XII e agora tem uma fachada Italien Renaissance! Seu nome é devido ao inglês, Thomas Bontemps que viveu lá durante a Guerra dos Cem Anos.
Havia o mosteiro da Freres Precheurs, do século XIII, agora é a Prefeitura de Belves, e a igreja de Montcuq cujo coro e capelas são do século XIII.
Nos séculos XV e XVI o mercado coberto foi construído, funciona aos sábados de manhã e durante Julho e Agosto, nas quarta-feiras à noite. Pode sentar em uma das mesas e, em seguida, selecionar o que você vai comer das barracas vizinhas. É uma forma divertida, acessível e saborosa para comer fora durante o verão.
Domme, 10,3 Km de Beynac-et-Cazenac, 12 Km de Sarlat-La-Canéda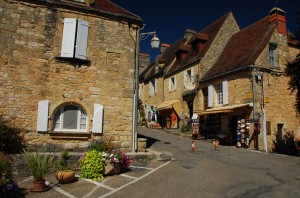 Domme
Esta cidade também tem o selo "uma das mais belas aldeias da França", cidade-bastide fundada em 1283 que preservou seus portões medievais. Ruas íngremes, casas medievais construídas em pedra dourada, diversas lojas e um mercado local cuja atração são os produtos regionais. Na praça central há a entrada para a Grotte de Domme, reserve uma visita guiada. Uma galeria subterrânea decorada com  gravuras pré-históricas em suas paredes e estalactites. Além da sua beleza natural, a gruta tem também um valor histórico para a população local, que buscou abrigo contra a intolerância que deixou mortos milhares de católicos e protestantes durante a Guerra .
Restaurante
Em Domme, reserve um almoço ou jantar no hotel/restaurante L`Eplanade, com  linda vista do Rio Dordogne, e seus castelos. Sugiro jantar na varanda no pôr-do-sol, a vista é incrível!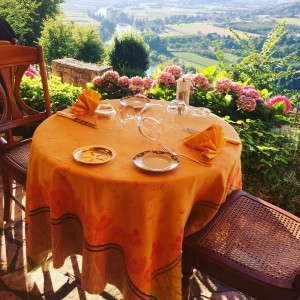 Restaurante L`Esplanade
3º Dia
Les Eyziers-de-Tayac, 23Km de Sarlat-La Canéda, 23 Km de La Roque Gageac.
Capital mundial da pré-história, o Museu Nacional de Arqueologia abriga a coleção Paleolítica mais importante da França.
O  museu Pré-Histórico Nacional do Eyzies de Tayac foi construído em Julho de 2004, projeto do pelo arquiteto Jean-Pierre Buffi, em um penhasco impressionante, sobre a pequena e histórica vila de Eyzies-de-Tayac. Apresenta coleções arqueológicas únicas, descobertas nas escavações de maior prestígio do Vale do Vézère.  Abriga cerca de 18.000 peças e uma coleção de seis milhões de objetos. Muitos temas são apresentados, como o estilo de vida das populações de Neandertal e do aparecimento do homem moderno. Os freqüentadores do museu também podem admirar as réplicas de lareiras pré-históricos, das casas construídas em abrigos e dos locais de origem dos objetos em exposição. O túmulo reconstruído do "L'enfant de la Madeleine" é de particular interesse nesta seção.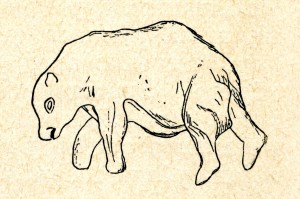 Les Combarelles
Les Combarelles é uma caverna com arte rupestre, localizada neste município. Contém mais de 600 gravuras parietais, cuja datação é atribuída ao Magdaleniano. Está sempre acessível para visitas, porém, por razões de conservação, a entrada  na caverna está limitada a grupos de 6 pessoas.

De 1979, o sítio figura na lista do Patrimônio mundial da UNESCO, conjuntamente com outros lugares pré-históricos e cavernas ornamentadas da região sob o nome de Grutas decoradas.  É um conjunto de sítios arqueológicos distribuídos ao longo de quarenta quilômetros no vale do Vézère, entre Eyzies-de-Tayac-Sireuil e Montignac, no departamento francês da Dordonha.
Se tiver mais interesse em visitar cavernas, siga até Rouffignac (19,3Km), imensa caverna com 8 km de galerias ocupadas por um longo tempo por ursos e ainda se pode ver os vestígios de sua presença, pinturas de mamutes e outros animais. Ou a Grotte de Lascaux II, em Montignac (25Km), cerca de 15.000 anos A.C. pintores desconhecidos criaram pinturas rupestres de tirar o fôlego em Lascaux, é uma perfeita reprodução da caverna principal.
Restaurantes
Le 1862, 4 Avenue de Laugerie, 24620 Les Eyzies-de-Tayac, Site:
Esta propriedade que data de 1862, está localizada no hotel Les Glycines, Relais&Chateaux sugerido para hospedagem, em um local muito agradável. O Chef Pascal Lombar, produz pratos gourmet inventivos, utilizando os melhores produtos locais, a garantia de uma experiência culinária saborosa. São renovados de acordo com a mudança da estação. No verão, pode desfrutar do terraço de frente para o jardim.
Au Vieux Moulin,  2 r. du Moulin-Bas 24620 Les Eyzies-de-Tayac   ☎: +33 5 53 06 94 33  Um charmoso restaurante.
4º Dia
St. Cirq Lapopie, 79Km de Sarlat-la-Canéda e 25,7 Km de Cahors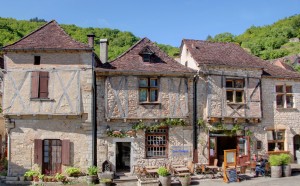 Saint Cirq Lapopie
Uma agradável viagem pelo Vale do Dordonha, chega nesta linda aldeia, classificada como "uma das mais belas aldeias da França". Localizada no Vale do Lot em cima de uma falésia de 100 metros acima do rio Lot. Com 13 edifícios históricos, ruas estreitas de paralelepípedos com belíssimas casas de pedra e madeira que datam do XIII a séculos XVI. Em 2012 foi eleita a Villa favorita dos franceses.
Desde o início do século XX, a aldeia atraiu artistas, galeristas parisienses e, a partir de 1950, muitos artistas do movimento surrealista. Esta dimensão artística ainda é claramente percebida por descobrir o caminho da arte contemporânea, sem esquecer a residência dos artistas internacionais instalado na Maison Daura.
O poeta e escritor André Breton, fundador do movimento surrealista, foi quem introduziu Saint-Cirq-Lapopie. Sobre esta aldeia onde ele se estabeleceu definitivamente, ele disse: "Eu parei de querer estar em outro lugar". 
Cahors, 60Km de Sarlat-La Canéda 
Localizada no Vale do Lot. À época da Roma antiga, na Idade Média, a cidade se tornou centro comercial e financeiro de nível europeu. Uma verdadeira Idade de Ouro a ser revivida ao se visitar o centro antigo – intacto e deliciosamente vivo.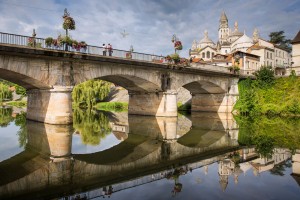 Comece a caminhada pela Ponte Valentré, símbolo da cidade. Com uma magnitude inabalável, ela cruza o rio com suas três torres fortificadas. Edifício fortificado do século XIV, a ponte Valentré está inscrita no Patrimônio Mundial da UNESCO, assim como a Catedral de Saint-Étienne, no cenário do caminho de Santiago de Compostela.
A visita continua no coração de Cahors, onde o vermelho dos tijolos  combina com o cinza do calcário e com o ocre do arenito. Ao longo das estreitas ruas medievais, saboreia-se o charme das pracinhas remodeladas e  dos jardins secretos que florescem na cidade. As arcadas das lojas da Idade Média acolhem restaurantes, cafés e comércios.  Boulevard Gambetta, legado do século XIX, convida para um passeio.
Programa imperdível, quartas e sábados: o mercado gourmet que acontece às portas da Catedral de Saint-Étienne. Lembre-se de levar uma cesta grande o suficiente, pois aqui, tudo abre o apetite: queijos de Rocamadour, cordeiro caipira de Quercy, nozes do Périgord, foie gras, melão do Quercy, vinhos DOC Cahors.
Cahors está, situada no coração do vinhedo que leva seu nome desde a época de François I. Ao centro do vinhedo, terroir histórico da malbec, cêpa principal da denominação, castelos e domaines abrem suas portas aos visitantes. Uma ótima oportunidade para descobrir o chamado vinho preto, um vinho apreciado por sua coloração intensa, as nuances sutis e caráter forte. O vinho local, chamado Vin de Cahors, produzido principalmente da uva Malbec.
Curiosidade
A construção da ponte Valentré durou muito tempo. Diz-se que seu arquiteto fez um pacto com o diabo a fim de acelerar as obras. Esculpida no topo de uma de suas torres, um diabinho em alto-relevo evoca tal lenda. Os Jardins Secretos de Cahors, são os únicos da França.
Restaurantes
Hotel Le Vinois, Le Bourg 46140 Caillac,   ☎: +33 5 65 30 53 60
Localizado próximo da cidade de Cahors, é um Restaurante Gourmet, pequeno e muito aconchegante, com uma decoração contemporânea. A comida  excepcional, com um Chef criativo  que utiliza produtos locais. Aconselho a fazer uma reserva.
Ferme Aux delices de la Serpt,  La Serpt, 46250 Frayssinet-le-Gelat, França, 37Km de Cahors  ☎: +33 565366615
Se você gosta de pato, as fazendas que criam patos também têm seus restaurantes. O Ferme Aux delices de la Serpt, na Ferme Auberges, escondido na pequena aldeia de La Serp, a 37Km de Cahors, no caminho para Sarlat,  permite que os consumidores acompanhem todo o processo da comida, até que ela chegue à mesa. O lugar é agradável , tem mesas em baixo das árvores. É necessário fazer reserva com uma antecedência de uns 3 dias. 
Aberto todo o ano, de terça à domingo na hora do almoço e à noite. Quarta-feira, sexta e domingo com reservas.
5º Dia
Collonges-la-Rouge, 71 Km de Sarlat-la-Canéda e 41 Km de Argentat
CIDADE IMPERDÍVEL!
Collonges-la-Rouge, uma das "mais belas aldeias da França", fica a 23 km ao sudeste de Brive na região de Limousin. É uma cidade muito atraente e muito popular entre os visitantes da região.
A primeira coisa que nota-se quando chega na cidade é a cor dos edifícios, quase  todas as casas foram construídas com o arenito local, que é muito vermelho.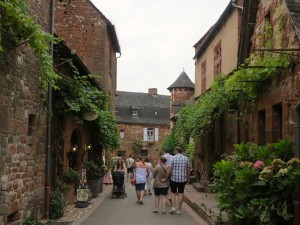 Collonges-la-Rouge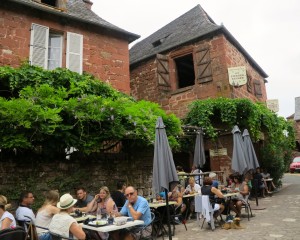 Collonges-la-Rouge
A cidade do século VIII, quando monges de Charroux (agora em Poitou-Charentes) fundaram um convento. Collonges se desenvolveu em torno da igreja e do convento. Ao longo dos séculos seguintes muitos nobres e empresários locais construíram casas e castelos em torno da aldeia.
A vila prosperou com o rendimento dos vinhedos até o final do século XIX, quando a filoxera destruiu as vinhas (como aconteceu em muitas partes da França). Mais recentemente, a aldeia tem-se concentrado no desenvolvimento de uma indústria local baseada no turismo.
Collonges-la-Rouge é um belo lugar para explorar, com caminhos sinuosos, muitos monumentos notáveis e um charmoso Centro Histórico.
Argentat, 106 Km de Sarlat-la-Canéda, 41 Km de Collonges-la-Rouge e 24 Km de Collonges-la-Rouge
A cidade de Argentat está localizada nas fronteiras de três regiões, Limousin, Auvergne e Midi-Pyrénées, no Vale do Dordonha. Esta área tem uma natureza intocada e paisagens de tirar o fôlego! O Departamento de Correze é certamente uma das mais belas áreas rurais da França.
Argentat tem um património arquitetônico rico com vários castelos, como o  Château du Raz ou no Château du Bas e a cidadela feudal de Merle (XII e XIV séculos).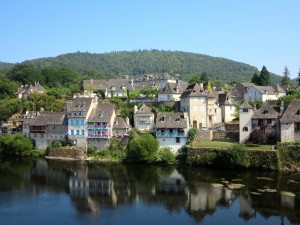 Argentat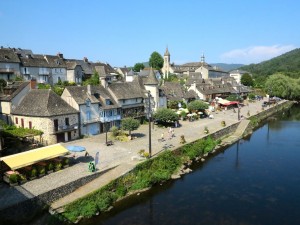 Argentat
Em 1263, no dia de St. Andrew, Visconde de Turenne admitiu um mercado importante para a cidade, que dizem ser o mais antigo de baixo Limousin.
Durante o século XVI e início do século XVII, a cidade foi palco de violentos confrontos entre protestantes e católicos. As lutas foram diminuindo gradualmente. A cidade teve um crescimento econômico significativo nos séculos XVIII e XIX, graças à navegação que permitiram a entrega de mercadorias  para  a região de Bordeaux.
Muitos festivais medievais e fogos de artifícios são realizadas lá durante o verão.

Beaulieu-sur-Dordogne, 24Km de Argentat e 16Km de Carennac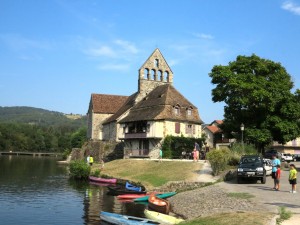 Beaulieu-sur-Dordogne
Cidade medieval, localizada na região administrativa de Limousin, em  Corrèze, às margens do rio Dordonha.  
A Porte Saint-Catherine, um dos portões originais  da cidade fortificada, é a entrada para o centro antigo da cidade, na Place Marbot, fica o escritório de turismo Beaulieu-sur-Dordogne.
O Centro Histórico da cidade se desenvolveu em torno da praça do mercado e contém lindas casas medievais  algumas em enxaimel e outras na pedra tradicional local.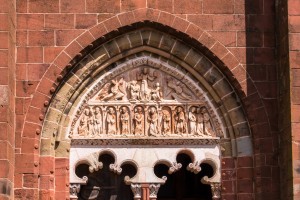 Porta da Igreja St. Pierre
Beaulieu-sur-Dordogne tornou-se um centro de peregrinação, devido à sua igreja, St-Pierre, que foi construída ao longo de um período de dois séculos, XII e XIII, na Praça do Mercado, no Centro Histórico. É um símbolo perfeito de influências arquitetônicas da região de Limousin e do sudoeste da França. A beleza deste edifício reside principalmente no seu portal sul (que remonta ao 12C). Constitui uma das primeiras obras-primas da escultura românica. Nesta composição, o que representa o prelúdio do Dia do Juízo Final, Cristo parece desligar-se da cena em uma atitude triunfante.  Dentro da igreja, contem um tesouro, uma  estátua da Virgem, do Século XII,  feita de madeira, com a beleza inigualável.
Mercados são realizadas na 1ª e na 3ª sexta-feira do mês, e  durante o  verão ocorre no centro da cidade todas às segundas-feiras à noite. Os mercados de noite são uma grande oportunidade para os turistas  desfrutarem de uma refeição num ambiente comum dos moradores e Beaulieu não é diferente, com a vantagem adicional de um cenário ribeirinho agradável para passear acompanhado por músicos locais .
Particularmente famosa por seus morangos, a vila mantém um festival anual no segundo domingo de maio.
Restaurantes
Les Flots Bleus, Place du Monturu, 19120 Beaulieu-sur-Dordogne,  ☎: +33 5 55 91 06 21
Email : reservation@hotel-flotsbleus.com
O terraço abre às margens da Dordonha. Os melhores produtos locais com uma cozinha criativa, carne e peixe selecionado, pato e foie gras, rolinhos primavera, confit de pato, morangos "Gariguette" na temporada.
Fechado às segundas e, em Julho e Agosto,  às segundas no almoço. Fechado de Novembro a Março.
La Ferme de la Truffe, GAEC des Bouyssières Pouzols 46600 Cuzance  ☎: +33 565378257/0689978439  30 min de Rocamadour 45 min de Sarlat e 40 min de Beaulieu-sur-Dordogne, no caminho para Sarlat.
Fazenda de trufas, visitação com reservas durante todo o ano, com degustação gratuita de torradas com manteiga truffadas. Vende trufas frescas ou frascos, óleos, vinagres, mostardas, patês, livros … Receita gratuito é oferecida pela família no final da visita.
Aberto de terça a sábado durante todo o ano, loja aberta 9:00 às 19:00 diariamente na fazenda
Visite a trufa: todas as manhãs, a partir 10:30 com reserva (Julho e Agosto não precisa reservar para visitas)       
Restaurante na fazenda diariamente para almoço das 12:00 de terça-feira a sábado e terça-feira e sexta-feira às 19:00 (é necessário reservar um dia antes). Em direcção Cuzance, siga os sinais "La Ferme de la Truffe".
6º Dia
Carennac,16Km de Beaulieu-sur-Dordogne e 21,2 Km de Rocamadour
É uma comuna francesa na região administrativa de Midi-Pyrénées, no Vale do Lot. Carennac é classificada como "uma das mais belas aldeias da França". Depois de um longo período de prosperidade, a cidade monástica foi devastada pela Guerra dos Cem Anos e reconstruída no final do século XV.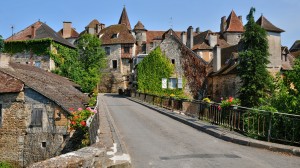 Carennac
Construções renascentistas com janelas esculpidas e telhados marrons são agrupadas em torno de um Convento no século XI. Perto da igreja românica e seu claustro, o Château des Doyens convida-o a descobrir os tesouros deste "Pays d'Art et d'Histoire" (País das Artes e da História). 

No claustro, datado por volta do século XI, encontra-se a famosa escultura do Miseau Tombeau século XV. Por uma pequena taxa, pode visitar o claustro.
O Castelo de Carennac, foi construído no século XVI, como foram algumas das grandes casas na aldeia. Dentro do castelo tem uma exposição permanente sobre a rica arquitetura e história de Carennac. Na visita ao castelo, admire o belo teto pintado do salle d'apparat (o salão cerimonial).
Carennac sempre realiza a sua principal festa da cidade no primeiro domingo de agosto até dia 15 e este é um bom momento para visitá-la.
O dia do mercado é terça-feira durante a temporada de verão. 
Rocamadour, 21,2 Km de  Carennac e 51Km de Sarlat-La-Canéda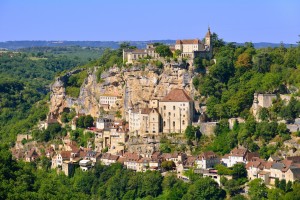 Rocamadour
No Vale do Lot, especificamente em direção ao Parque Natural Regional do Causses de Quercy. 
O nome significa "amante das rochas" ("roc amator") e foi um dos grandes pontos de peregrinação na era medieval. A cidade sagrada de Rocamadour faz parte das visitas imperdíveis, visitante ou peregrino, ficará maravilhado pela arquitetura desta pequena cidade.
A cidade é "cortada" em três andares: O primeiro é a sua rua principal ladeada por casas e restaurantes. O segundo é a cidade religiosa que agrupa sete capelas e uma Basílica. No alto, encontramos vestígios de um forte do século XIV. Das suas muralhas pode-se admirar a paisagem do vale e o canyon de Alzou.
Lá viveu e morreu como eremita o judeu Zaqueu de Jericó, morto por volta de 70 d.C. Ele amava as rochas, e cavou um eremitério numa delas para ficar longe do mundo. Zaqueu morreu com fama de santidade. Depois de sua morte foram reportados inúmeros milagres atribuídos a seu túmulo e ao santuário da Virgem.
Muitos peregrinos famosos estiveram em Rocamadour, entre eles: São Bernardo e São Domingos. Carlos Magno teria visitado o santuário quando foi a lutar contra os mouros na Espanha. Também as rainhas Leonor da Aquitânia e Branca de Castela; e os reis Henrique II da Inglaterra; São Luís IX, Carlos IV e Luís XI da França. Além de incontáveis outras personalidades.
Conserva-se, aliás, um fragmento de Durendal, a espada de Rolando que foi com Carlos Magno na expedição e morreu epicamente na batalha de Roncesvalles. 
Entra-se na cidade pelo Portão do Figuier (da Figueira), antes de seguir pela rua de Couronnerie: a única rua de Rocamadour, vivaz, repleta de lojas coloridas e de belas mansões. Deixa o carro em um estacionamento próximo e sobe de trenzinho até a cidade.
Chega-se, em seguida, diante de uma escadaria monumental (233 degraus!). Ela se eleva no coração de Rocamadour: um átrio onde se aglomeram, tais como antigos abrigos sob as rochas, oito igrejas e capelas. Entre as quais a capela de Notre-Dame, onde encontrará a Virgem Negra, do século IX, pequena imagem em madeira preta, frágil, quase infantil, que, no entanto, emana uma força espiritual incrível, venerada há mais de mil anos, que segundo a tradição foi trazida para a França no ano 70 d.C. pelo eremita Zaqueu de Jericó, e a qual são atribuídos muitos milagres.
Gouffre de Padirac, a 18Km de distância de Rocamadour, é considerada uma das maiores curiosidades geológicas da França. Foi explorada em 1889 por Edouard-Alfred Martel. Depois de uma descida íngreme a 103 m de profundidade, você embarca no rio subterrâneo para um passeio de barco. Você encontra  um estalactite gigante de 60 m de altura, que, como por um fio, parece admirar na superfície de Lac de la Pluie.
A cidade, que fica no departamento de Lot, faz parte de vários caminhos de Santiago de Compostela.
Restaurantes
Beau Site Jehan de Valon,  | Rue Roland le Preux, 46500 Rocamadour, ☎: +33 5 65 33 63 08
Restaurante muito bem localizado, na cidade medieval, tem uma bela vista e é um local bastante agradável. Boa comida com toque regional. É uma atração turística.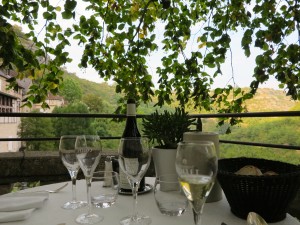 Restaurante Beau Site Jehan de Valon
Le Belvedere, Route de Brive, Rocamadour,  ☎: +33 565336325
Localizado à beira de um "penhasco" com uma linda vista, boa comida e uma equipe muito simpática. Possui o selo "Bonnes Tables du Lot". Não perder o pôr do sol, quando se põe, as luzes se acendem na cidade dando um cenário espetacular. Restaurante turístico. Tem estacionamento.
Restaurant La Terrasse, Place de l'Eglise 46200 Meyronne   ☎: +33 5 65 32 21 60  15Km de Rocamadour
Lindo restaurante, localizado em um Chateau,  Hotel La Terrasse, possui o selo "Bonnes Tables du Lot". Aprecie a  autêntica cozinha inspirada por esta maravilhosa região e preparada pelo Chef Pascal Perigaud Auvergne. Combinando produtos e especiarias, e respeitando o terroir fabuloso deste belo local.
7º Dia
Perigueux, 65,7 Km de Sarlat-La-Canéda
É a capital do departamento de Dordogne. Tem um interessante centro medieval e renascentista, concentrado na área, em torno da Catedral Saint Front.  Possui boulevares atrativos e ruas ladeadas de casas medievais, a igreja Saint-Etienne (catedral), em grande parte remonta ao Século XVI, quando foi reconstruída.
Os principais pontos turísticos de Perigueux podem ser vistos em uma simples caminhada pelo centro da cidade. Pegue um mapa no escritório de turismo.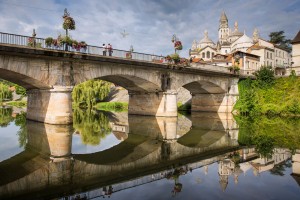 Perigueux
Comece na torre Mataguerre, resto da muralha que rodeava antigo centro da cidade. Originalmente havia 28 torres e 12 portas. Esta torre tem as portas de canhão e fendas de arco e flecha que foram uma parte fundamental do projeto das forças armadas do século XV.
Caminhada  até a  Praça Navarra com edifícios do século XVI, um dos muitos pontos mais atraentes em Perigueux, para sentar e desfrutar de um café ou parar o almoço. Nas proximidades da Rue Aubergerie  está uma fortificação do Século X, Abzac Ladouze  e na rua Sallegourde,  casas que eram usadas pelos ricos comerciantes no século XV.
A Casa das Senhoras da Fé na Rue des Farges remonta ao século XII, se tornou um convento nos séculos XVII e XVIII. A partir daqui continue para a Praça de l'Hotel de Ville, bem como a Câmara Municipal há uma casa fortificada dos séculos XV. 
Um dos edifícios mais célebres de Perigueux, em St Louis Square, a Maison du Patissier foi construído no século XIV e XVI, tem uma porta Renascentista maravilhosa coroada por uma concha (símbolo da peregrinação). Esta patisserie fez a fama de Perigueux com o "paté de foie gras", ainda é um dos destaques gastronômicos desta área.
A Rue Limogeanne é outro destaque de Perigueux, uma charmosa rua, cheia de edifícios interessantes com pátios interiores, esculturas ornamentais em torno das janelas ou portas. A Praça de la Vertu é uma das praças mais bonitas da Perigueux.
Descendo para o rio, há um conjunto de casas medievais do século XVI, particularmente atraentes, "Casa Lambert", a "Casa dos Cônsules" do Século XV e do Século XVII, "Hotel de Lur". O Galerie Daumesnil é um aglomerado de ruas estreitas, com excelentes detalhes arquitetônicos. 
A Praça de la Clautre, era o local para execuções públicas, agora onde fica o mercado, que funciona de manhã nas quartas-feiras e domingos.
Por último, mas não menos importante é a maravilhosa Catedral Bizantina. Seu conjunto de cúpulas podem ser vistas por toda a cidade. É um Patrimônio Mundial da UNESCO e tem uma planta semelhante à catedral de São Marcos, em Veneza. Foi o modelo para a igreja Sacre Coeur no topo da colina em Montmartre, em Paris.
Restaurante
Le Clos Saint Front, 5/7 rue de la Vertu, 24000, Perigueux, França  ☎: +33 5 53 46 78 58
Restaurante fantástico! Lugar muito agradável, com um jardim encantador e uma atmosfera descontraída. O chef/proprietário, Patrick Feuga, é um artista com seus menus  criativos e cozinha inventiva. Não há restaurantes melhor do que este em Perigueux. A qualidade da comida,  padrão de serviço e o ambiente. Por este motivo será minha única dica de restaurante nesta cidade. 
Argentat
,
Beaulieu-sur-Dordogne
,
Beynac-et-Cazenac
,
Bordeaux
,
Carennac
,
Collonges-la-Rouge
,
confit de canard
,
Correze
,
Domme
,
Dordogne
,
Europa
,
fazenda de patos
,
fazenda de trufas
,
Ferme Aux delices de la Serpt
,
foie gras
,
França
,
gastronomia
,
Hostellerie de Plaisance
,
Igreja de São Pedro
,
Joël Robuchon
,
La Ferme de la Truffe
,
La Grande Maison de Bernard Magrez
,
La Roque-Gageac
,
Lascaux II
,
Le 1862
,
Le Clos Saint Front
,
Le Grand Bleu
,
Le Pavillon Villemaurine
,
Le Presidial
,
Le Quatre Saisons
,
Les Chambres du Manoi
,
Les Eyzies-de-Tayac
,
Les Flots Bleus
,
Les Glycines
,
Les Hauts de Gageac
,
Les jardins d'Harmonie
,
Lot
,
Lot Valley
,
L'Envers du Décor
,
L'Intendant
,
Maison Dupéliac
,
Périgord Noir
,
Perigueux
,
Relais de Moussidière
,
Relais&Chateaux
,
Rocamadour
,
Roteiro
,
Rouffignac
,
Saint-Émilion
,
Sarlat-La-Canéda
,
St. Cirq Lapopie
,
trufas
,
UNESCO
,
Vale do Dordonha
,
vallé du Lot
,
Vallée de la Dordogne
,
vinhedo
,
Yndo Hôtel
2